Dori Chopper
Regular price Rs. 999.00 Rs. 2,999.00 | Save Rs. 2,000.00 (66% off)
500
People looking for this product right now
CUT THE VEGETABLES OR FRUITS LIKE A NINJA!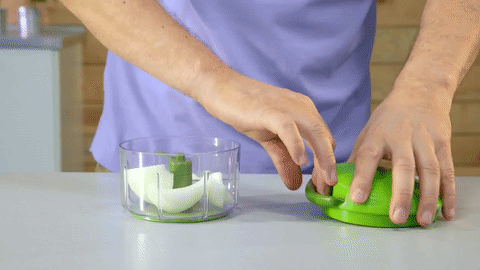 The Mini Plastic Veggie Cutter makes chopping of vegetables and fruits a seamless and easy process. Featuring manual operation and smart design, you can chop a wide variety of items such as onions, tomatoes, nuts, cheese, apples and more.
Strong & Highly Durable Body for Everyday Use:
Made from high-quality plastic, the Mini Veggie Cutter is sturdy and will last for a long time even with daily use. Moreover, it is easy to clean and store anywhere in the kitchen.
Featuring sharp stainless steel blades, you can achieve perfect results with minimal effort. Simply pull the cord and get chopped veggies and fruits in an instant.
Easy to Disassemble and Clean:
This chopper can be opened and detached easily, cleaning is an easy task using lukewarm water, mild detergent, and a soft cloth. Extremely simple to maintain, this chopper is can be placed in any drawer or shelf in your kitchen.
Highly Compact & Easy to Store:
Featuring a compact size, this chopper is portable and easy to move around in your kitchen. It is simple to store away while not in use as it can fit anywhere from a cabinet to a drawer.
No Electricity Required:
The cutter does not need electricity for chopping, with a simple pull of handle it chops veggies and fruits effortlessly.
Usage Instructions:
1. Carefully place the blade over the center of the bowl.
2. Cut the ingredients in crude pieces and place them in the bowl. To ensure a good result, fill at most 1/4th of bowl capacity with ingredients.
3. Place snugly cover on the bowl.
4. Hold the lid with one hand and pull the handle with the other hand, until the desired results are achieved. Your initial pull can be a little forceful.
5. Take out the blade carefully before removing food from a bowl.
Returns Policy
We Accept 7 Day Returns.
Shipping
Product Will be Shipped within 48h.

Effortless Closet Organizer...


Rs. 1,499.00
Camera Lens Coffee Mug with...


Rs. 899.00